Roero Arneis D.O.C.G.
100% Arneis
Intense straw yellow colour with green hues. Soft, agreeable and persistent bouquet with scents of pineapple. Fresh, soft and harmonic taste.
Grapes are softly pressed and fermented at a controlled temperature of 16°C. It remains in contact with yeasts in steel tanks for at least 6 months with continuous "batonnages".
It is good with hors d'oeuvre, seafood, vegetable cakes and pasta. It is excellent with grilled fish.
13,5 % vol.
Serving temperature: 12-14°C
A gem of a wine that has a lot of respect in Italy and especially in Piedmont…
***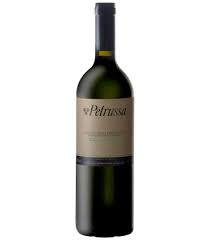 Petrussa – Friuli Venezia Giulia, Italy
Ribolla Gialla 100%
Clear yellow gold color. Fresh aromas with typical scents of this autochthonous grape that you will only find in this part of Friuli. A beautiful wine with a nice long finish.
This wine is best consumed with a nice fresh salad, sea fruit and fish.
Comment: Not a known international grape but a celebrity in his home town…